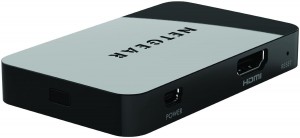 Recently, we were using a Netgear Push2TV adapter at work to display the output from an Android tablet on a larger monitor for a demonstration. That got me thinking … "I wonder if it work work with the Phantom 2 Vision?"
I thought that it would be cool if the First-Person View (FPV) provided by the Vision's smartphone app could be displayed on a TV so others could watch as I flew the quadcopter.
I did a little research and learned that my Moto X phone is compatible with the Push2TV. The Moto X supports "Miracast" which is the protocol used by the Push2TV to wirelessly mirror the phone's display on the TV. Miracast is built on another protocol called "Wi-Fi Direct" which allows two devices to connect by Wi-Fi outside of a network. Wi-Fi Direct also allows the phone to connect to the Push2TV adapter at the same time as it is connected to a wireless network.
When the Push2TV arrived, I hooked it up through its HDMI connection to a small TV. It displayed a screen saying that it was ready to connect.  On the phone, selected "Settings => Display => Wireless Display" and wait while it scanned for a wireless display to connect to.  And I waited. And I waited. Eventually, I gave up.
That's when I had a brilliant idea – read the instructions. Aha! It says to update the firmware. I downloaded the firmware file to the phone then pushed the button to change to the setup mode on the Push2TV. I connected the phone to the Push2TV adapter through a regular Wi-Fi connection. I opened the Chrome app and connected to the Push2TV box. It displayed a web page asking me to upload the firmware file.  I browsed for the file, selected it, and click the button.  After a few minutes, the Push2TV restarted with a different "ready to connect" screen.
I selected the wireless display option on the phone again and there it was … the Push2V appeared in the list of wireless displays.  I selected it and the phone's screen showed up on the TV!
So, I fired up the Phantom 2 Vision. Danced a little to the start-up sounds, I connected the phone to the Phantom's Wi-Fi feed. Then I fired up the DJI Vision App. And, it worked. The TV mirrored what I saw on the phone and the app controlled the Vision's camera.
Last weekend, I took the TV and Push2TV adapter to a local rocket launch. I tried mirroring the Vision App on the TV while I flew the Phantom 2 Vision. Unfortunately, the inexpensive TV I had wasn't very bright. Even sitting in our trailer under overcast skies, it was hard to see.  So, I didn't spend too much time experimenting to see if mirroring the display affected the range of the Vision's FPV. But, I did confirm that it works.